Vera Luciani's gardens and natural swimming pools are inspired by natural patterns and shapes.
She has over twenty years of experience in designing swimming ponds, natural swimming pools, and gardens. Her aim is to complement the natural environment, so that water and plants harmonise with their surrounding landscape.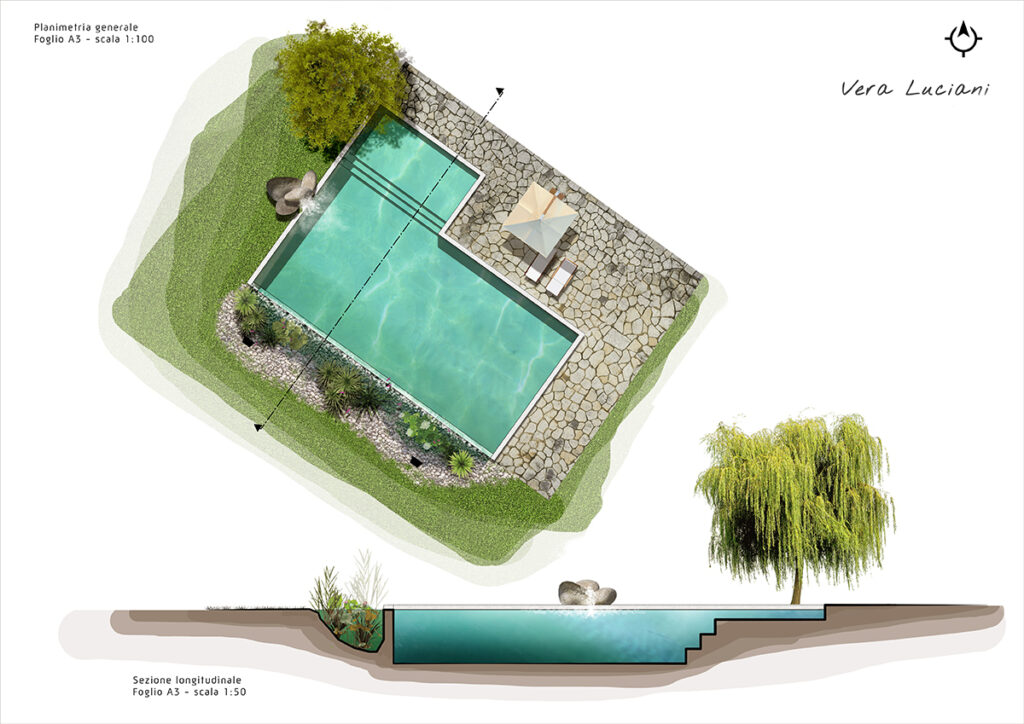 Vera Luciani's swimming ponds and natural pools are an integral part of her design for the whole garden. The garden should become the welcoming setting to everyday life, in which to enjoy all aspects of nature. Elements may include diving boards, wooden decks, water features, paths, structural elements such as dry-stone walls and steps, or shady corners under pergolas or gazebos.
VERA LUCIANI
Vera Luciani was born and raised in Venice, steeped in a city in constant dialogue with water and nature. She was one of the first Italian designer to specialise in designing ecological swimming pools of many types, and has built natural pools, swimming ponds, and salt water pools in private settings, country farms and resorts.
WHAT IS A NATURAL SWIMMING POOL?
A Natural Swimming Pool is a water basin suitable for swimming, in which the water is kept clear without the use of chlorine, but an ecologically sustainable manner, by a careful selection of marginal plants and micro-organisms.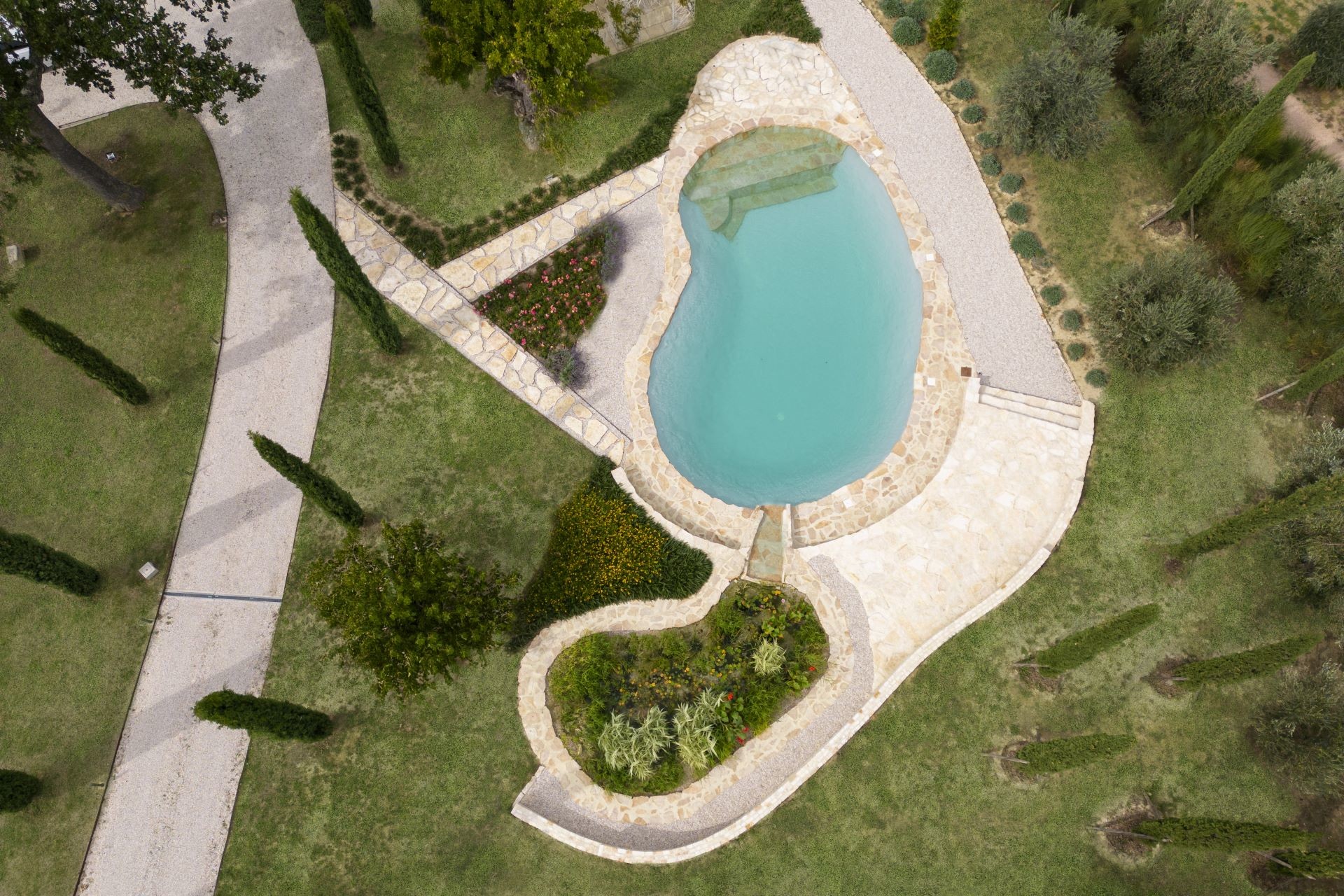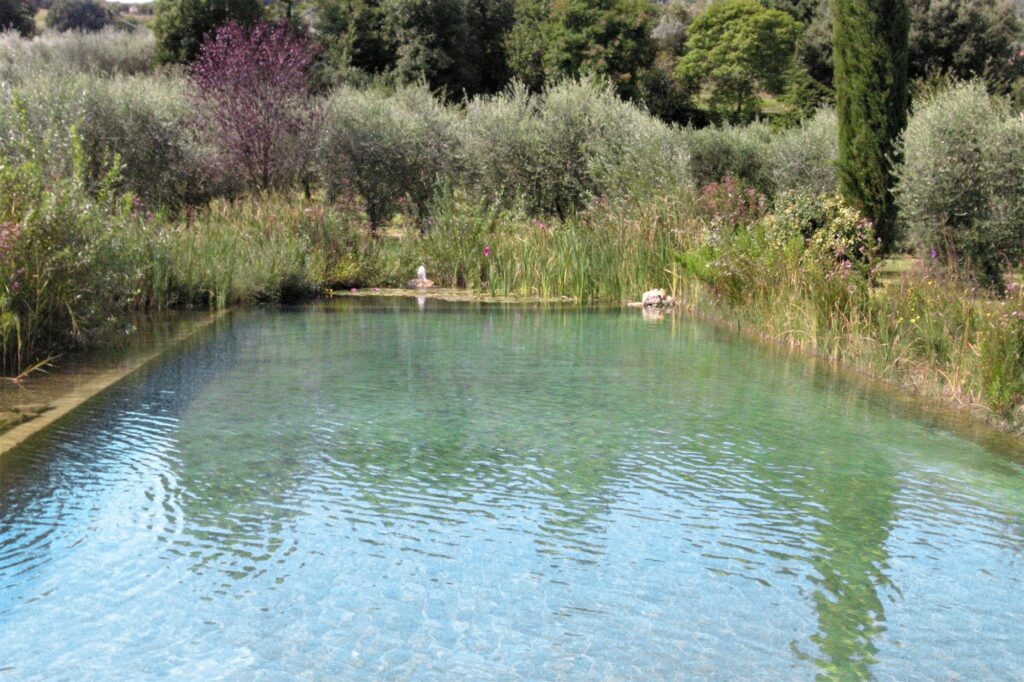 HOW IS IT BUILT?
One portion of the natural pool is reserved for bathing, while another part is reserved for water plants and microorganisms that guarantee water purification. With time a wildlife habitat establishes itself in this microenvironment and regenerates according to the natural pace of the surrounding nature. This oasis for fauna, plant life and human beings ensures natural beautiful landscapes.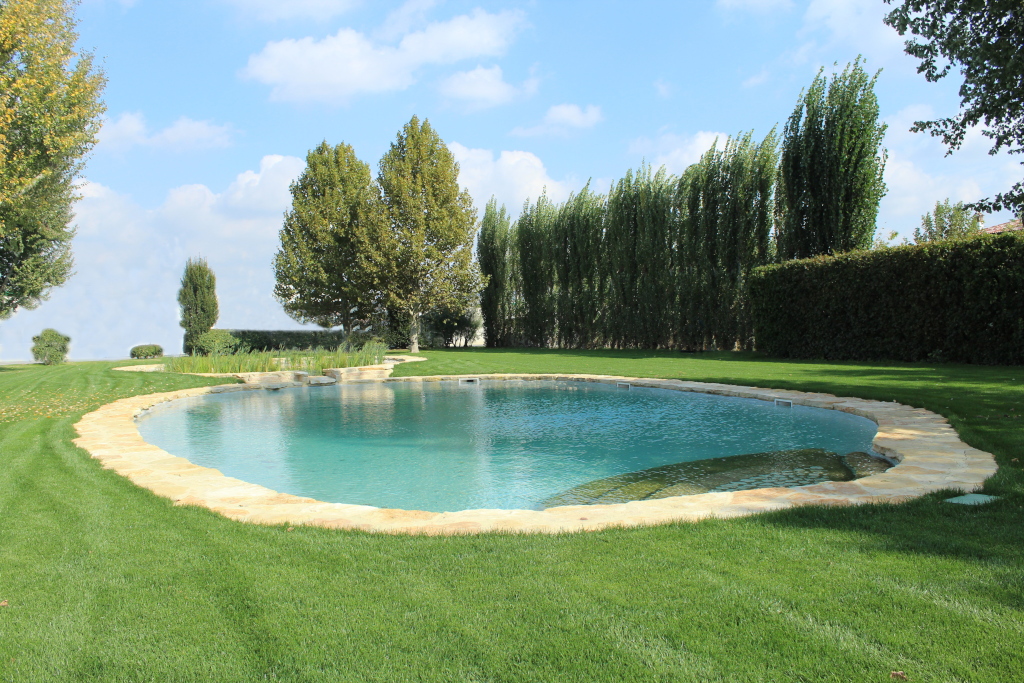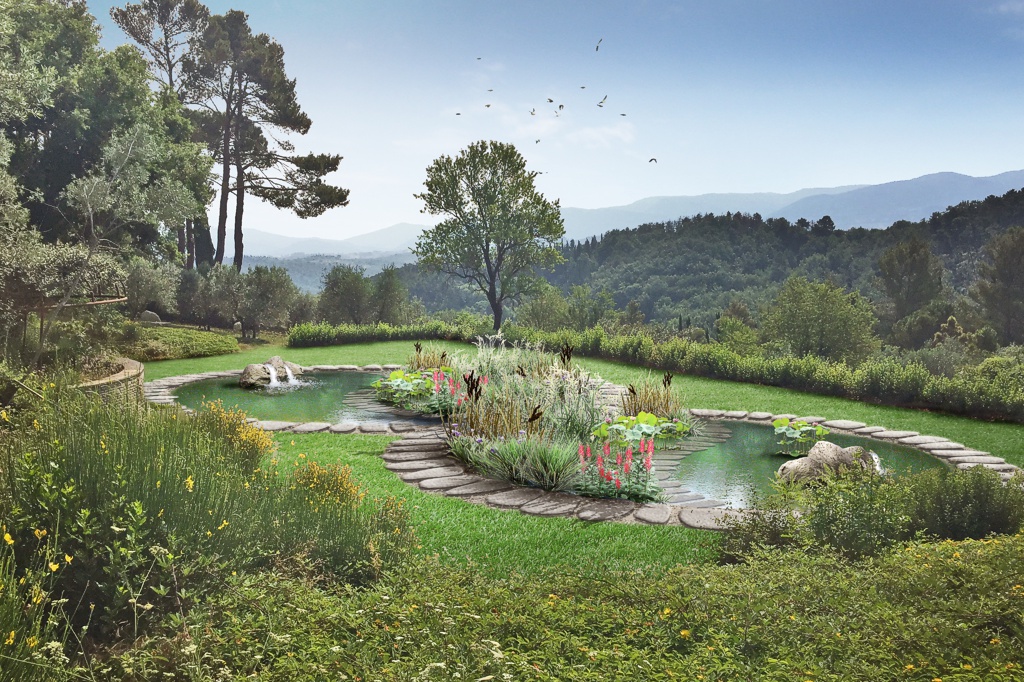 A SUSTAINABLE SWIMMING POOL
The principle underlying the choice of natural pools or bio-ponds is that purification occurs in an absolutely natural way, exploiting the self-purifying of natural bodies of water and avoiding any use of chemicals, such as chlorine. This also means that the bathing water is pleasant and refreshing for the skin. In addition, these pools do not require being covered or emptied in winter.
On the contrary, natural pools are particularly attractive during winter as the surface freezes over. The marginal plants which go dormant, and seem dead, remain standing, their silhouette a feature of the landscape, and a bonus for wildlife which may continue to gather winter food or material for nests.
In the summer, because of evaporation, it is necessary to top up the ponds or pools with pure water. With these simple, long lasting measures, maintenance costs can be kept low.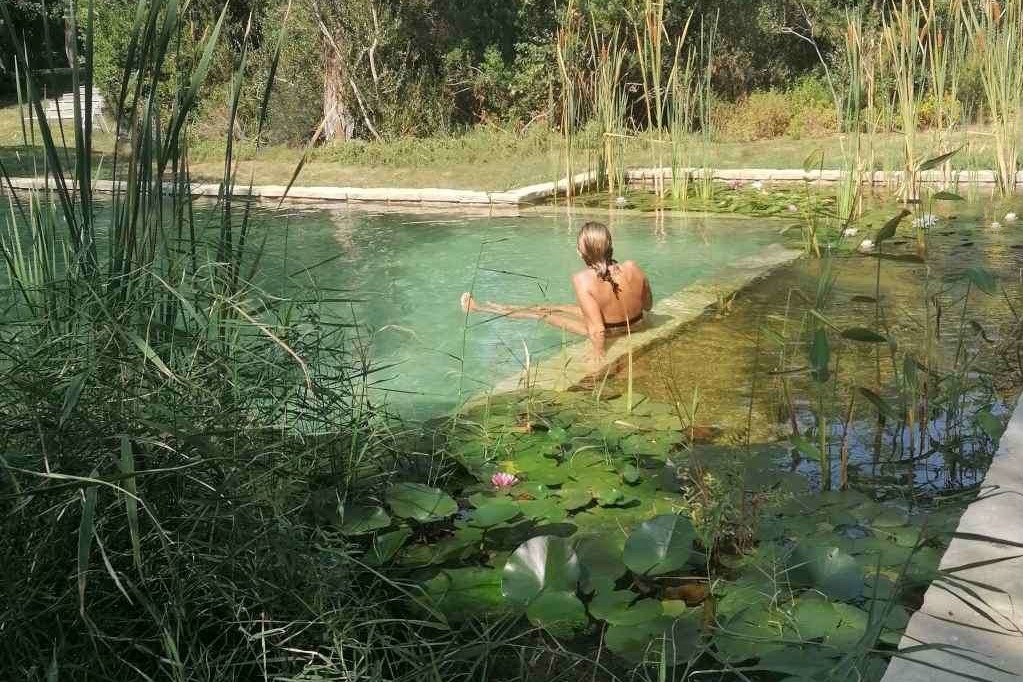 THE IMPORTANCE OF WATER AND WATER PLANTS
Choosing to build a Natural swimming pool essentially means to understand the importance of water and natural surroundings. Water is part of the a complex ecosystem ties together mountains, forests, countryside, gardens and cities. What makes the bio-pond a living system are the countless animal and vegetable microorganisms contained in the water, some of which have the function of mineralising organic substances, making the pool effectively a closed circuit, recycling water instead of wasting it. Water plants also purify the water by filtering elements which make it cloudy, absorbing mineral nutrients, heavy metals and possible toxic organic compounds.
BIOFILTRATION
Biofiltration is the process by which deep water and marginal plants, and their associated microorganism, are used to purify water, by mechanical, chemical and biological processes. This system is increasingly used in camping areas, eco friendly establishments, in small villages and rural areas, as an effective, cheaper and sustainable alternative to traditional sewage management. Biofiltration is increasingly being used to revive polluted rivers, lakes and canals, as well as to deal with excessive runoff in cities, taking weight off the sewage mains, reducing heat islands and adding biodiversity.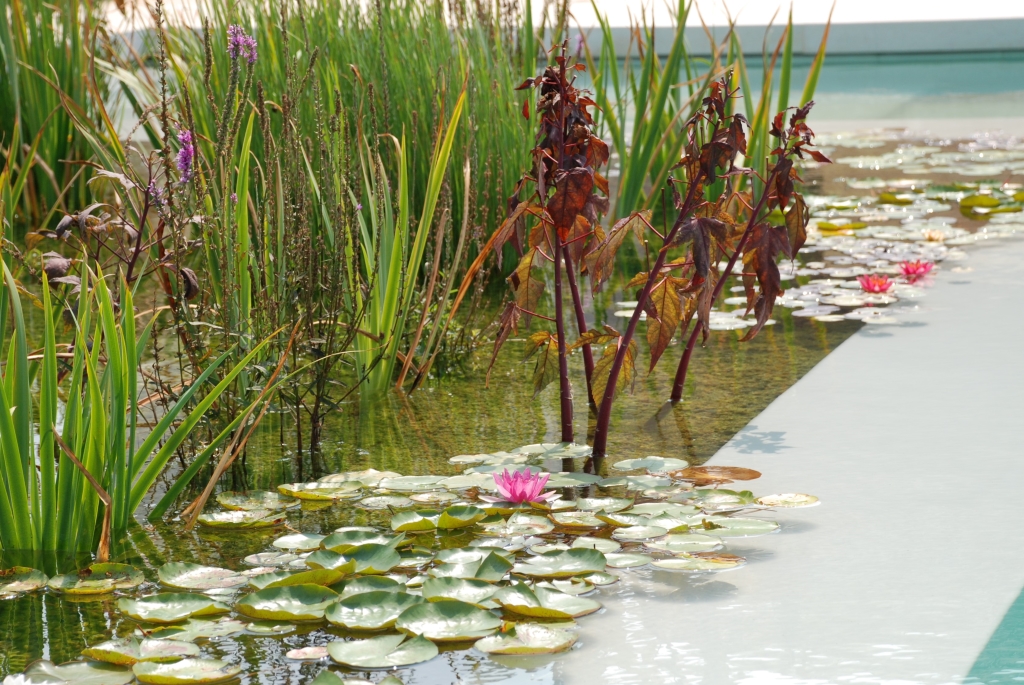 PLANTS
In natural wetlands there are plant species that are associated with microorganisms which purify water, and these include both deep water and marginal plants. Plants contribute to shading the water, keeping down the temperature hence the proliferation of algae. We select plants not only for their physical and biological cleaning capacities, but with an eye for their decorative potential and suitability for their surrounding environment. The pool is tied to its setting via a bank, planted up with herbaceous perennials, shrubs and trees, thereby connecting water and land harmoniously.
SALT WATER POOLS
It is possible, end extremely convenient, to purify and disinfect the water of traditional pool using salt. This system, which takes us back to the times when salt was considered a precious panacea, requires a low amount of salt for a relaxing and unique experience that is also beneficial to the skin. It is only necessary to add 4 grams of salt to each liter of water at the beginning of the season and to install an electrolytic cell that breaks down the salt (sodium chloride) and releases the required amount of chlorine to oxidize organic residues and destroy algae, fungi and bacteria. The water stays clean and safe and the salt, which is gradually reduced when the filter is cleaned, needs to be topped up only periodically if its concentration diminishes, which is an economical solution that does not require storage and handling of toxic chemicals.
LATEST NEWS FROM VERA