Vera Luciani designs natural swimming poolsand gardens inspired by patterns and shapes dictated by nature.
She has been designing bio-ponds, natural pools and gardens for over 20 years, matching the natural context, in which both water and plants harmonize perfectly with the rest of the surroundings.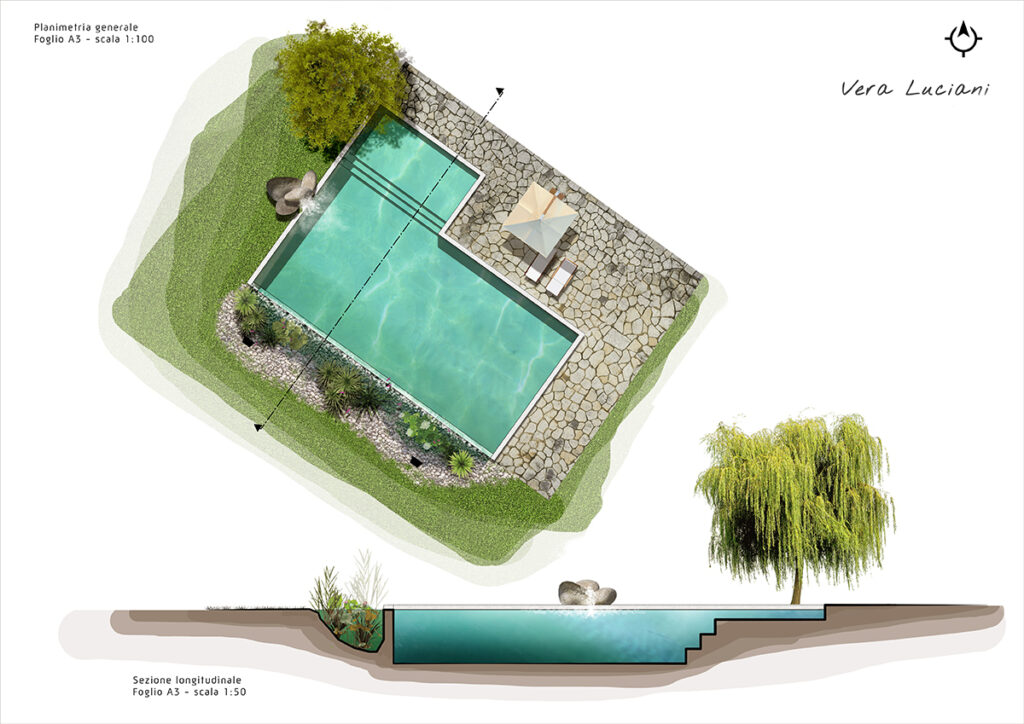 Luciani redesigns outdoor areas, with her bio-ponds and natural swimming pools. She may add diving boards, waterworks or walking paths, decorating peripheral areas with dry-stone walls and steps, wood decks, pergolas or gazebos. The outdoors become the welcoming backdrop to everyday life in which to enjoy nature in all of its forms.
VERA LUCIANI
The owner of the firm that bears her name, Vera Luciani. Born and raised in Venice Vera Luciani is among the first in Italy to specialize in planning and building natural swimming pools, promoting the addition of natural pools, bio pond and salt water pools in private parks and gardens.
WHAT IS A NATURAL SWIMMING POOL?
A Natural Swimming Pool is an eco-sustainable water basin for swimming and where water plants and their microorganisms replace the use of chlorine.
HOW IS IT BUILT?
One portion of the natural pool is reserved for swimming and for the enjoyment of its users, while another part is reserved for the water plants and the microorganisms that guarantee water purification. With time, a wildlife habitat establishes itself in this microenvironment, regenerates itself according to the natural pace of the surrounding nature. This oasis for fauna, plant life and human beings ensures natural beautiful landscapes.
THE NATURAL SWIMMING POOL
The principle underlying the choice of natural pools or bio-ponds is that purification occurs in an absolutely natural way, exploiting the self-purifying capability of water and avoiding any use of chemicals, such as chlorine. This also means that the bathing water is pleasant and refreshing for the skin. In addition, these pools do not require winter covering or emptying.
During the cold season, this type of water basin is particularly pleasing to the eye, especially when it freezes, with no consequence for plants. In the summer, because of evaporation, it is necessary to replenish the ponds or pools with potable water. With these simple, long lasting measures, maintenance costs can be kept low.
THE IMPORTANCE OF WATER AND WATER PLANTS
Choosing to build a Natural swimming pool essentially means to understand the importance of water and natural surroundings. Water is a complex ecosystem that is tightly connected to mountains, forests, countryside, gardens and cities. What makes the bio-pond a live system are the countless animal and botanical microorganisms contained in the water, some of which have the function of mineralizing organic substances, making it reusable. Water plants also purify the water by filtering the constituents that cause turbidity by absorbing mineral nutrients, heavy metals and possible toxic organic compounds.
PHYTO-DEPURATION
Phyto-depuration exploits the water plants and their associated microorganisms to purify the water. This system is being increasingly used in camping establishments, small villages and settlements as a valid alternative to traditional sewage management. According to several experts in the field, such technics also allow for considerable financial savings. Furthermore, phyto-depuration is increasingly being used in the re-naturalization of polluted rivers, lakes and canals.
PLANTS
In natural aquatic environments, certain plant species develop favoring the growth of microorganisms that are essential for depuration. Equally important is the presence of both riparian and terrestrial plants. Woods and water banks with their herbaceous, shrubbery and arborous components, represent the balance which tightly connects water and land. The plants contribute to shade the water, preventing the proliferation of algae and other water plants
SALT WATER POOLS
Purifying and disinfecting water in a pool using salt is possible and has countless advantages. This system, which takes us back to the times when salt was considered a precious panacea, requires a low amount of salt for a relaxing and unique experience that is also beneficial to the skin.
It is only necessary to add 4 grams of salt to each liter of water at the beginning of the season and to install an electrolyser that breaks down the salt (sodium chloride) and releases the required amount of chlorine to oxidize organic residues and destroy algae, fungi and bacteria. The water stays clean and safe and the salt is replenished only if its concentration diminishes, as a result of filter cleaning.
LATEST NEWS FROM VERA